Borca di Cadore


Italian
Custom Search
Borca di Cadore is located at the feet of mount Antelao, with a breathtaking view on Mount Pelmo. The town is strategically located in the middle of a long and wide valley, rising on the bank of Boite river, just 12 kilometres from Cortina d'Ampezzo, and 4 kilometres from San Vito di Cadore.

During 18th century, an impressive landslide partially changed the face of this town. The old hamlet of Taulen was destroyed from a landslide coming from the Antelao mountainside.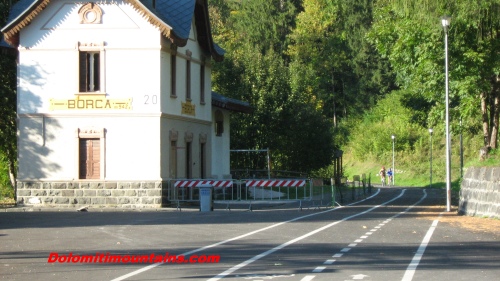 Today the town is surrounded by woods and it's overlooked by the amazing Dolomites and, at the bottom of the valley, flows the Boite creek. The old Church of 18th century of Borca truly worth a visit, with its distinctive bell tower, and so is the Natural Science Museum.Today, Borca di Cadore is a touristic destination, rich in craftmade activities as blacksmith, carpenter and more others.

At the top of a hill, entering the town from the Cadore area, is located a holiday village, which includes an hotel, a church, a restaurant and entertainment staff. It has been built in the early 60's by the large petrol company Eni. As today this village is very popular during summer and winter holiday seasons.

What to find in Borca di Cadore

For downhill race, at just 3 kilometres, in San Vito di Cadore, is located a small ski area and just a little bit far away the bigger ski area of Cortina, the Dolomiti Superski.

It is also possible to practice mountaineering ski along striking paths during a ski holiday. In the summer season the excursion possibilities multiply. From the town lots of itineraries start and enter the Dolomites massif; paths which lead, in just half an hour, to natural monuments and pleasant places.

Along the town run the famous Lunga Via Delle Dolomiti (Dolomites Cycle Track), the cycling path which links Calalzo di Cadore to Cortina d'Ampezzo and Lienz, in Austria. Today you can even go to south and reach the city of Belluno. Otherwise it is possible to walk and hike inside the woods, looking for mushrooms or perhaps go down to the river for trout fishing.