Sappada

Italian
Custom Search
Sappada is located on the edge of Belluno province, right below Austria border and right next to Friuli Venezia Giulia region. The village extends across the whole valley, with the river Piave running alongside it. The town expands in length and is composed by 15 smaller villages; some of them of recent origins, others are older.

It is right here, from Mount Peralba, where Piave river born and its springs are visible and also easily reachable. The landscape is covered in conifers, grazing and wide woods, and the town is surrounded by massif and suggestive Dolomites mountains, like the Pic Cjadenis, the Mount Lastroni, the Mount Chiadenis, The Mount Ferro and the Mount Siera.

| | |
| --- | --- |
| The origins of the village are very old. This town has been founded by German people and the actual local dialect has remained the common language over the centuries. The main feature of this town is the caring about buildings, antique wooden houses, haylofts. | |
The environment of the town is charming and rich in natural beauties. The "Orrido di Acquatona" can't surely be missed; this is a gorge created by the power of the water, after a 50 meters fall. Suggestive are the Cascatelle (little falls), formed by Mullbach river, which create a very special effect.

Sappada and its Carnival

The most famous and traditional event of this town, is certainly its Carnival. During the 3 Sundays before Lent, many different characters propose a representation of rich people, the poor and the peasants. These are funny representation of the social classes, accompanied by a pert burlesque mask, the Rollate, which is a man wearing a wood fur bushy mask and a couple of cowbells around the neck.

Summer offers many opportunities of trekking by foot, with horses, or with mountain-bike. In the summer it is possible to walk the path that leads to the falls even in the nights, thanks to artificial lighting. For children has been created Nevelandia Park "Summer", a very well equipped playground with various games like climbing frame, swings and golf. The town offers many opportunity for holidays in Dolomites.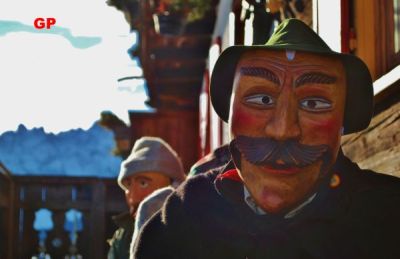 Winter offers 20 kilometres of skiing and snowboard slopes at all levels, equipped with draglifts and chair lifts. For the youngers, but not just for them, Nevelandia Park "Winter" is a mix of multiple small fields, located at the bottom of the ski slopes, where it is possible to descend with sleighs. But is also possible to rent motorized snow-bikes for funny excursions. Almost other 20 kilometres are for the cross-country skiing. Sappada is very proud of this sport. It hosted many international competitions and gave birth to many famous athletes. This old town is a nice place for holidays in Dolomites.