Predazzo

Italian
Custom Search
Predazzo is a village belonging to Fiemme Valley, it is between Fiemme Valley, Fassa Valley and Primiero Valley. This is the biggest village in its valley. Not far from it, it is situated the Paneveggio National Park and Forte Buso Lake, wonderful destinations for excursions and visits all year long.

Val di Fiemme is acquainted to be the Geological Garden of the Dolomites thanks to its geological and mineralogical richness. As part of this natural heritage, the town's council,in 1989, gave birth to the Ethnography and Geology Museum.

During the past decades the local economy was based mainly on agriculture, breeding and timbering, nowadays though, the local economy is mainly concentrated on trade and wood-working. The wealthness of this toww is also given by a still existing feudal rule, which has kept its economy pretty stable. The possession of land and woods is spread among the local Patriarchs and allows a certain wealth for the family members.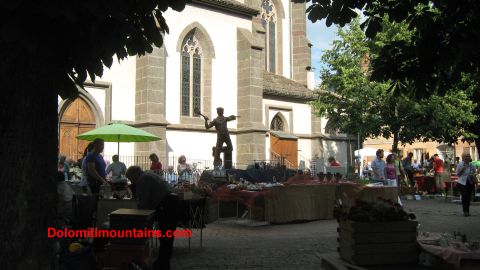 A touristic amenity is Santi Filippo and Giacomo neo-Gothic church belonging to the late nineteenth century. In Fiamme Gialle street is based the Scuola Alpina (alpine school) an institution founded on 1920 for The Guardia di Finanza (which is a law enforcement agency), considered to be the oldest in the world. The Guardia di Finanza is essentially responsible for dealing with financial crime and smuggling. In the village though, the Guardia di Finanza has a different role, there's a squad specialized in alpine rescue and there's also the Fiamme Gialle ski club. Within the barracks there is an historical museum of the Alpine Guides where are preserved many heirlooms of the war and also sports memorabilia, to remember great winter sport champions like Gustavo Thoeni, Alberto Tomba or Cristian Zorzi.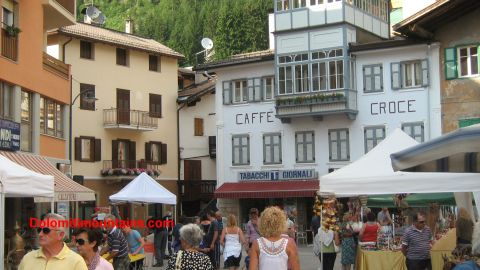 Predazzo in Winter

The town offers many opportunities to visitors all year round, but in winter time there are even more choices. The village is part of the area of Obereggen ski resort, facilities are found in Pampeago and Obereggen. The hole complex offers skiers, 50 kilometres of ski trails, connected to one another by a free shuttle bus system. This ski area is part of the vast Dolomiti Superski area.

The town, is one of the best ski station to ski to Bellamonte-Alpe-Lusia facilities, through modern ski lifts and to Ski Center Latemar's area through Predazzo-Gardone cable-cars. Very close to each other are also the Fassa valley resorts and the town of Moena. Cross-country-skiing has a great chance to be practiced on ski trails such as the Ziano di Fiemme, with a trail of 12 kilometres length and the link to Bellamente's plateau facilities.

Click on the images to watch the Gallerry