Plan De Corones

Ski Area in South Tyrol

Italian
Custom Search
Plan de Corones (Kronplatz) is located in the southern part of the Val Pusteria in Dolomites Southtyrol only three kilometres from the town of Brunico. The area is a mountain of 2.275 meters high, known for years for being a ski resort of great attraction. It Has the classic "panettone" shape: the summit, of volcanic origin, is broad, rounded and without vegetation of tall trees.

In this ski area it's possible to ski on three ski slopes on the sides of the mountain. There are over 20 cableways available, 6 chair lifts and 5 ski lifts for a total of 103 kilometers of perfectly snowy slopes. It must be said that here are committed 32 snowmobiles and 250 people in the maintenance and management of the ski slopes.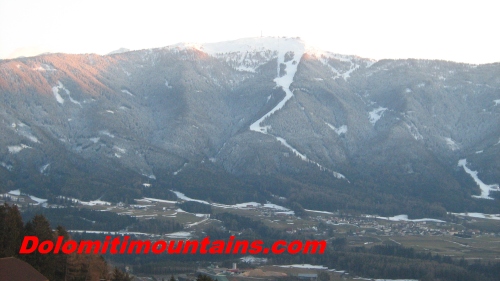 On the Southern side 5 slopes are passable on skis in the spring. Of these, the runway that down to Valdora is long about 6 and a half kilometers and reaches a valley after 1.170 meters of elevation gain.

On the side of St. Virgil the gap is 1.070 meters and the track, a little shorter, is 6 Kilometres. For those who prefer more challenging tracks Sylvester and Hernegg slopes, both 5.4 kilometers long, from the top down for 1.300 meters to Riscione. From Piz de Plaies down instead Piculin, a black run, which comes to Piccolino in Val Badia.

On the north side are hard tracks, which down to Riscione. Moving east toward Valdora and the top area, the slopes are considered ideal for carving, they descend to the valley with wide curves and then, ever closer, it wedged between the woods into the valley.

The western slope descends instead to St. Virgil. Here the down is long and easy, good for children and beginners of skiing. Always towards the west, lies the path of Piz de Plaies, unlike the other track, this track is suitable for advanced and demanding skiers.

Plan De Corones offers many options

Can not miss the cross country tracks and lit tracks for those who love the charm of nature at night. The Panorama Track is dedicated to those people.

Plan de Corones has also the biggest snow park in South Tyrol. It is located near the Belvedere lift and facing south east. The snowpark starts from an altitude of 2.230 meters with 4 lines of difficulty. These have a total length between 750 and 800 meters with 1.700 meters of ascent.

Ski services in this area certainly not lacking. There are 160 ski, telemark, snowboard and cross country ski teachers. For those who prefer to take it easy there is the possibility to make a stop in one of 40 bars, traditional parlor or cozy shelters or housing in the area.