Michele Menardi
Bob Team


Italian
Custom Search
Hello, my name is Michele Menardi I'm 30 years old and I live in Cortina d'Ampezzo. I started practicing the Olympic sport of bobsleigh at the age of 19 but this passion was born long before a child when my mother brought me to the Olympic track Ronco to see these bob's whizzing down the "frozen gut", I never thought that this would become my sport.
It all started one night while I was working as a bakery, when a friend of mine came to see me whom held this sport for several years and told me that this would of been the sport for me, and to show up in the evening on the track to make a descent on the taxi bob totry this experience.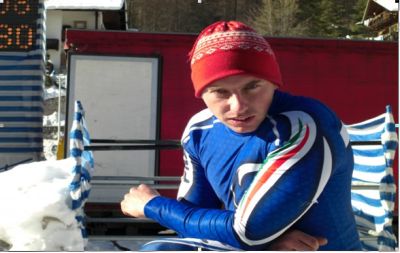 I showed up to try, I did it and when I got off  the bob my friend without telling me anything told me that he had enrolled me in the pilots course for the same evening and I had to show up in the middle of the track to start the driving course.
Very suspicious and afraid I showed up at the place set in which they said "this is the bob, these are the handles to drive, now start." Baffled I thought I woldn't finish in one peace, but I was there and it was not possible to stand back  so I sat in the middle of the bob and with a gentle push and the heart pounding I went. Unexpectedly it came all so naturally, as if I had always done it, the instructors also amazed were surprised to see the ease of driving the bob and from there began my career.
The next year I was in the Italian national team, where I stayed for 10 years getting good results. In 2012/2013 I was offered a partnership with Argentina, I estimated this proposal and agreed to have new challenges, my goal will be to participate in the next Olympic Games to be held in Russia in Sochi.
Achievements:
2 times Italian champion bob at 4
3 times Italian champion bob at 2
1st place in European Cup
Many 2nd and 3rd places in international competitions.

With my activity I want to give the chance for those who want to sponsor me for the 2013/2014 season by putting its own logo on the vehicle on the helmet and on the race suit.
My racing activities will be carried out at international level in the various circuits of the European Cup and the World Cup with TV visibility.

I propose also to those who want to sponsor me some businesses as some descents test and taxi bob or for those who want to experience an international competition the chance to stay with me in a week of events to plunge into a competitive experience at 360 degrees.

Yours: Michele Menardi