Locanda ai Dogi

Reastaurant and Hotel in Pieve di Cadore

Italian
Custom Search
Locanda ai Dogi in Pieve di Cadore is an hotel and restaurant that has been appreciated for years and it has recently been renewed. Right in the center of the town, in a nice and quiet environment, there is the possibility to have lunch or dinner with fresh and freshly prepared dishes. The restaurant gives a warm sense of intimacy and the service is fast and discreet. And if you think that everything has ended here and that what will come next can not be taken for granted ... you're just in error!

From appetizers to first courses, from main courses to desserts, it's all about discovering tasty and well-prepared dishes. Unforgettable cuts of meat, surprising game sauces, sweets worthy of a pastry. Of course you can not take anything for granted. If then the time of the libation falls on a Friday, it is also necessary to taste the fish. Always fresh and prepared in a well-kept and excellent way. From the taste of cod to appetizer to the excellent spaghetti with seafood, and yet we are in the mountains, in the village of Tiziano Vecellio!

The Hotel Locanda ai Dogi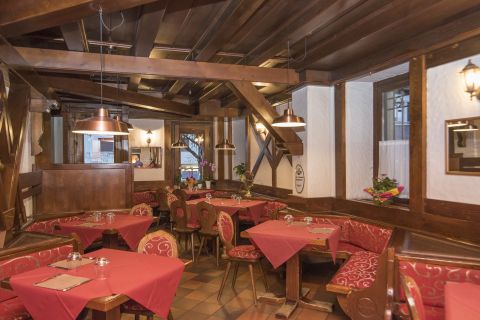 Even today we offer to our guests the service of a hotel equipped with all comforts. From free wi-fi to the terrace, from the parking to the lift on all floors. And then in the summer a large outdoor relaxation area also welcomes everyone for an aperitif. The hotel is a great starting point for trips, excursions to the mountains or the nearby ski destinations. Virtually halfway between the ski slopes of Auronzo and San Vito di Cadore. And it is an excellent starting point even in summer, to visit the countless Dolomite mountains that surround us.

You can find us in:
Piazza Municipio, 21
32044 Pieve di Cadore (BL)
Tel. +39 0435 581279
locanda.aidogi@gmail.com