Lienz

A City Ancient and Modern

Italian
Custom Search
Lienz is an Austrian town of the Eastern Tyrol, in the Drava (Drau) river valley. The heart of the old town was built in the flat along the Isel. It is surrounded by austrian alps, they are the Zettersfeld, and the Hochstein where the ski world cup has taken place different times. At South you can see the peaks of the Lienz Dolomites and at North those of the Alti Tauri. From the city there's the start point of different roads that go towards the Carinzia and Salzburg.

For some time now, the city has become a tourist destination, the type of tourism is different respect to other areas, here you come to relax.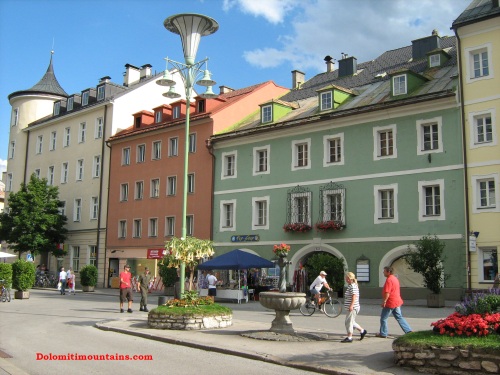 In the Winter it's downhill slopes, devided into three large skiing areas, give lots of chances of having fun, there are 73 ski lifts with more than 40km of slopes. There are also 60km of cross-country trails, and you can also go ice-skating.

The Summer is the best time for biking, you can ride on the cycle track which coasts the Drava river, from San Candido in Italy up to the centre of the city. Otherwise you can go in a swimming lake, the only possible to swim of the area, the Tristachrsee. Here you can also relax playing golf, tennis, going swimming, and much more, without leaving out the saunas and Turkish baths. Lots of walks can be done near the town. The Hohetauern natural park is easily accessible to enjoy the nature and the fresh air of the Tyrol.

All year round there are many happenings in Lienz. In January there is the "Race in the Dolomites", in February the "Snow Kajak Race" in March the "Sansite Parksession" in the Summer "the Road Theatre Festivaland" in December the traditional Christmas Market.

The roots of the city are very ancient. Here you can admire the archeological site of Aguntum of roman ages and many are the evidences of more recent ages.

As you can often see in austrian cities, old and new buildings stand close together. If the city centre is full of coloured buildings and roads closed to the traffic, the outskirts have new buildings ideal for the dolomites climate.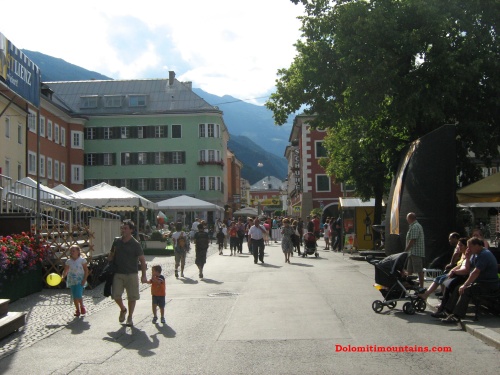 Ancient and worth the wile, is the church of Saint Andrew. Originally it was built in Romantic style of the 15th century but was then rebuilt in Gothic style, today it's the parish church.
At West of the city, on top of a hill there is the Bruck castle of the 13th century. The castle had bin used to defence of the Gorizian counts and today is a museum of the motherland of Western Tyrol, other than showing work of local contemporary artists. The castle of Liebburg now is the city council. The building, that looks upon the main square of Lienz, has two circular towers which at the top have two domes with an anion shape.