Corvara

In Badia Valley

Italian
Custom Search
Corvara is considered the primary village of the Badia valley, and its exact name is Corvara in Badia. The valley borders with the Gardena and the Pusteria valley. Inside this valley there are six villages. Col Fosco is also part of the village. It stays just under the Sassonger Mountain. Most of it's inhabitants are of Ladin Language and so it's culture is mainly agricultural and of handcraft. Feature of the valley is "la villa": many houses made of rocks and wood all close together which was of only one family, they created a small community inside the village. Most of the local traditions are close to the religion and so during all of the year you will see many events concerning it.

Summer offers many chances of doing excursions, from walks in the middle of the woods and the fields to the climbing of a Mountain wall or a via ferrata, and all can finish nicely inside a refuge. For who instead wants a bit of peace, near the town there is a nine hole golf course. Can't be missed out the chance of doing other activities: from tennis to paragliding, from fishing to Nordic Walking (walks with rackets) or also a ride on a Mountain bike. It is a while that the "Maratona Dies Dolomites" (the Dolomites Marathon) has become an event in the Badia valley: from the first Sunday of July there are competitions with bikers which go up and down the extremely hard roads of all the valley.
And many more in Corvara

Cannot be forgotten that from the town you can reach the two natural parks: the "Parco Naturale Fanes Senes and Braies" and the "Parco Puez Odle", which offers heart breaking excursions. The Winter instead, offers one of the most famous skiing trips: the Sellaronda. In twenty-six kilometres of slopes there is an unevenness of 4500 metres which connects four passes: Sella, Pordoi, Campolongo and Gardena; all of this in the largest part of the Dolomiti Superski circuit.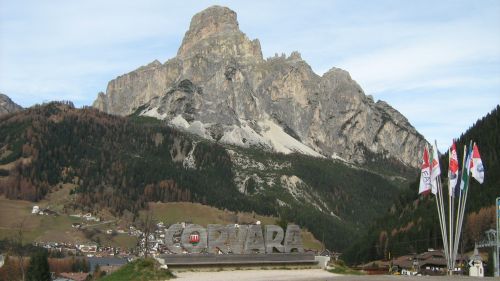 In all, the skiing in the Badia valley has 52 lifts with in all 130 kilometres of slopes. There also is the cross-country skiing where there is about 30 kilometres of slopes. And to this have become a must a horse-riding trip or a downhill ride on a sledge, without leaving out the chance of going ice skating. One of the only chances of going eliskiing in the Dolomites is offered from the Badia valley, at the Cherz refuge there is the start point with destination the Mountain peaks or also a sight seeing trip over the Dolomites. For who wants there are 80 kilometres of tracks where even during the Winter there is the chance of going walking.